Building extensible automation. Open Source.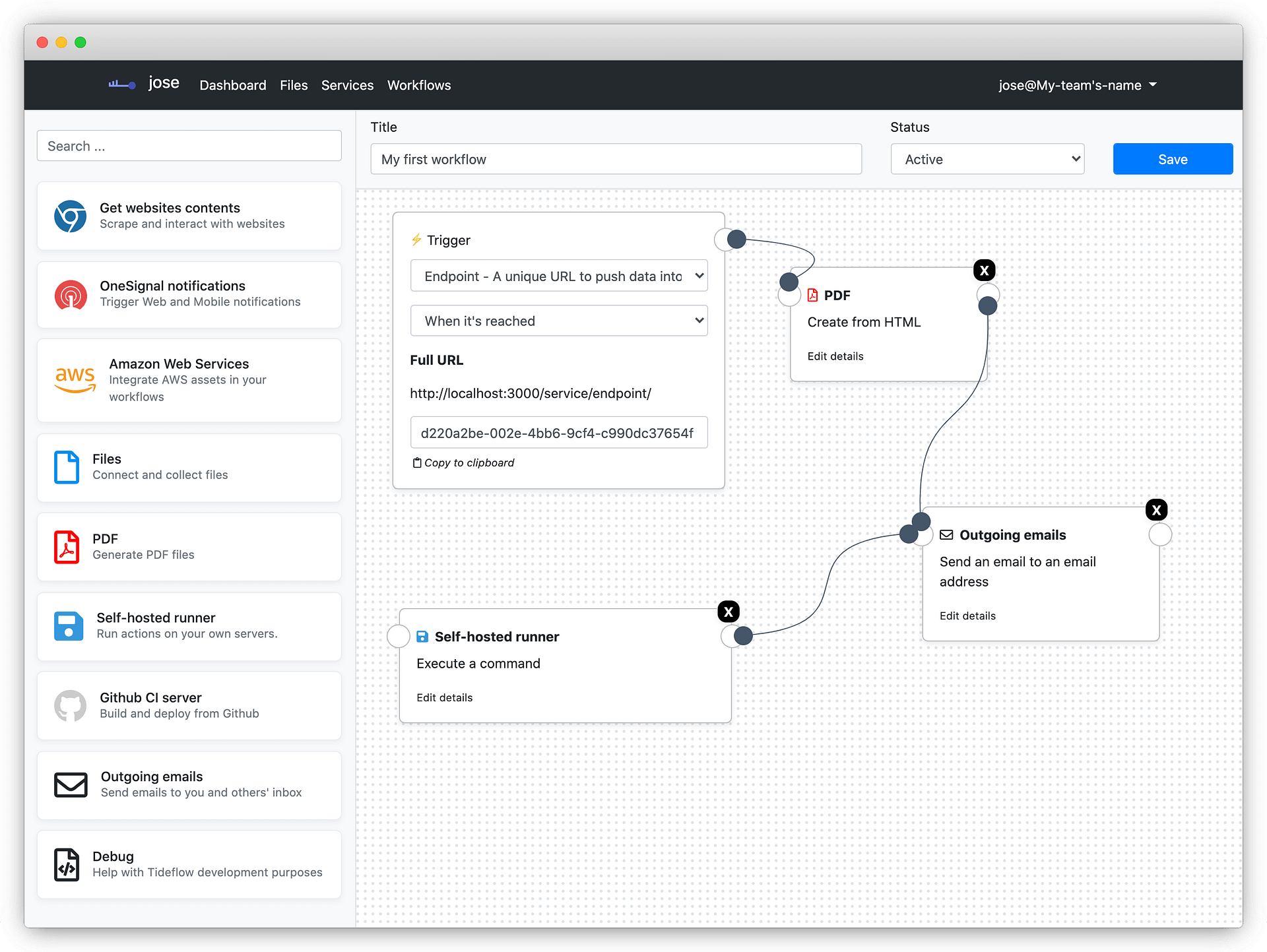 Everything for Workflow Management
See the flows editor in action
Tideflow's builder is designed for flexibility and rapid process design. Designing automated workflow processes is as easy as drag and drop. Create and connect tasks to create a custom workflow that streamlines your processes while replacing manual steps with automation.
Build processes quickly. Automate your workflow processes in minutes.
Overview of your processes
Understand how your processes are behaving with the blink of an eye.
Tideflow comes with live monitoring dashboards where you can understand how your workflows are behaving. You also have live action-by-action logs, filterable historical execution logs and graphical visuals of executions.
Connect and create new assets
Integrate files in your workflows.
Create and collect files. From an image you want to attach to an email, a template for creating PDF files, to a one-page-application written in HTML and Javascript that you can share with others. Even storing an screenshot taken from a website scraped via WebParsy integration.
Run tasks in your own computers.
Tideflow's agent allows you to run workflows actions in your own infrastructure. Either if it's for running an arbitrary command from your personal computer, or building and deploying after pushing to GitHub from your office's server.
Automate complex processes.
Tideflow's workflow editor allows you to create multiple-to-multiple connections between tasks. Each task's result is passed to the next one.
Automate and create anything.
Tideflow comes with a set of services that will allow you to do things like automating website contents scraping, automate build and deploy processes, generate PDF files, send emails and more. You can also build your own integrations.
Check on Tideflow's latest news. Visit the blog.
All

Development

Integrations

UI Design
Build your own automation.